By Niamh Smith
Despite the fact that original Shelby Cobras were produced in very limited numbers—only 998 were made between 1961 and 1968—Cobras have had a legacy that has superseded its production years. They can regularly be seen out on the roads and at classic car shows during the summer, both in the UK, the States and in fact globally. They are one of the instantly recognisable classic sports cars of the 60s. 
This popularity is largely owed to the fact that since the early 70s, a lot of small companies have been producing Cobra 427 replicas. It is estimated that over the years, over 60,000 replicas have been produced. These kit cars and replicas are such a popular choice since the originals are extremely rare and command a very high price tag. Many fans of this little British sports car with a rumbling American V8 found that having a Shelby Cobra replica can mimic the experience of owning an original but at a fraction of the cost. Win-win situation, right?
So, if you've been considering getting stuck into the world of Shelby Cobras but can't quite stretch to the (likely) millions of dollars you'd have to fork out for an original, we've broken down how much a replica AC Cobra costs.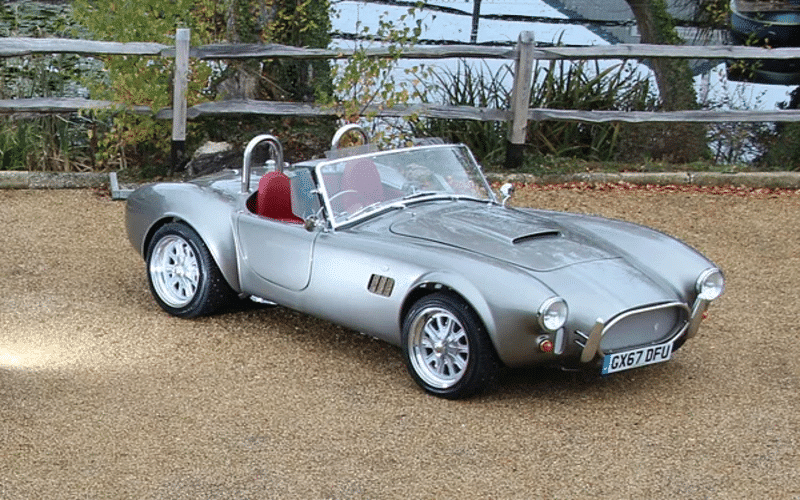 What is the Shelby Cobra?
It all starts with the legendary racing driver, Carroll Shelby, back in the early 1960s. Shelby's problematic heart condition had forced him to hang up his racing suit in 1960. However, he refused to just sit by and do nothing. 
In 1961, Shelby got the news that the English car manufacturer 'AC' was ceasing production of their AC Ace race car as Bristol were no longer going to produce their six-cylinder engines. Being the intuitive speedfreak that he was, Shelby realised that the light and nimble British roadster would be the perfect match for a big American V8.
He contacted AC who sent a roadster body to his shop in California, and with the help of Ford Motor Company and a small team of mechanics, the first Shelby Cobra was born. It was at first powered by a 260ci and later by a 289ci. It soon took the sports car world by storm. The combination of the lightweight body, small dimensions and insane power output proved to be revolutionary in the sports car world, and the car did extremely well in competition globally.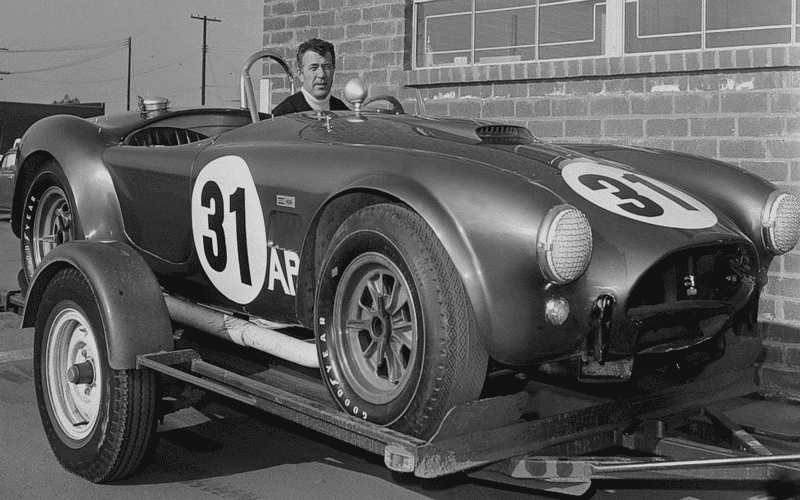 However, Shelby knew the car had yet more potential in it. In 1964, he started working on the iconic Shelby Cobra 427, powered by a big block 7L V8, pumping out around 450bhp and over 600 lb ft of torque. To fit the larger engine, the body had to be stretched and widened with necessary improvements to the chassis and suspension to take the extra power. 
With this new 427ci, the Shelby sports car did 0-60 in just over 4 seconds, which, even compared to modern standards, is insane. For years, it was the fastest American car in every aspect of the word. Shelby believed there was no such thing as too much power, and we'd agree.
The brutal acceleration was one of Shelby's best selling points for his Cobra. Rumour has it, Shelby would take potential buyers out for a spin and put a $100 note on the dashboard. If the passenger could reach forward and grab the note during acceleration, they could keep it. Needless to say, every time he tried it Carroll Shelby put that $100 back in his wallet. 
Popular But Rare
Between 1961 and 1968, 655 Shelby Cobra 289s were produced, and 348 Shelby Cobra 427s were produced. It is difficult to see how many were left, however, we know that many were crashed back in the day, due to owners not being used to that level of power in such a light car. 
Original Cobras, especially the 427 Cobras, are one of the most sought after classic cars and prices are now well over $1million at auction, however original cars rarely come up for sale.
This is why it's much more viable for people who are desperate for a Cobra, but either can't find one or can't afford one, to go for a new replica AC Cobra. After the original Cobras ceased production in 1968, there have been kit car manufacturers producing replica Shelby Cobras to provide the same feeling an original gives. 
There are still manufacturers making replicas today, including Shelby American in Las Vegas, Factory Five which is one of the most popular manufacturers in the States, and UK Cobra kit car manufacturers Pilgrim Motorsports. 
Before you dive into the world of finding a kit car for sale, it's definitely sensible to first ask the question 'how much is an AC Cobra kit car?'. Luckily for you, we've broken down the costs here, including some of the nit-picking bits, which from our years' experience some people don't consider!
Cobra Kit Car Cost
One of the good things about building a kit car is that they cater to a wide variety of budgets. 
Generally, you can pick and choose your level of specification to produce a car that's tailored to how much you want to spend. Because of this, it's important to note that there is a wide spectrum of how much a replica could cost you. If you're wanting higher specs with all the bells and whistles it's going to cost you more than if you just want bare basics of a fun car to bomb around in. 
Ready-to-Drive or Do-It-Yourself?
Depending on your budget and how much involvement you want, you also need to choose between whether to go for a fully built Cobra kit car, or whether to build it yourself with a modular build kit. To give you a ballpark figure to begin with, a factory-built British Cobra replica from Pilgrim Motorsports could be in the region of £55 – £70K depending on specifications. This sounds like a lot, but is only a fraction of what an original Cobra would fetch, while still offering the same feeling and power, finished to a high standard.  If you're wanting to do it yourself and buy a modular kit from Pilgrim Motorsports, you could be looking as low as £18K for a finished car (for the bare basics).
Where Pilgrim Motorsports is concerned, when buying an AC Cobra replica you know you're getting a British-built sports car finished to British standards, and to an exceptionally high quality. A fully-built replica is complete in four months from your order time, so you could be driving along those country roads in no time.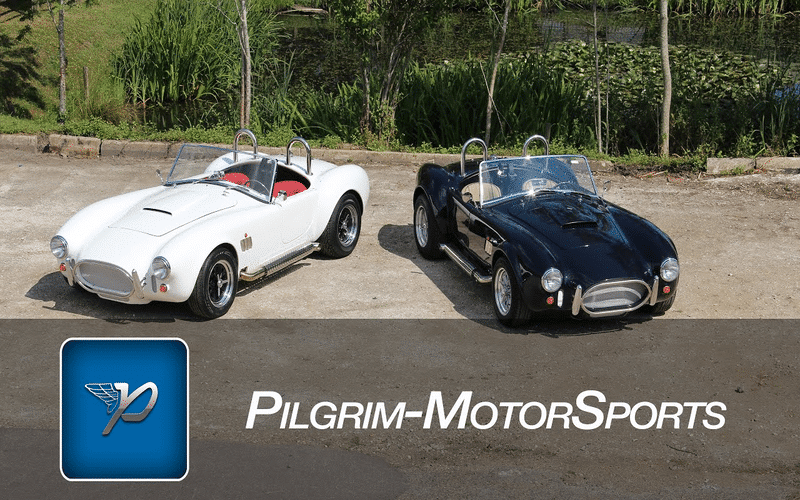 Modular Built Kit Cost
NB: Modular builds result in more customisable results and may work out cheaper in the long run, but they also take a lot longer and require a certain level of mechanical savoir-faire. It's always wise to research accordingly. 
Pilgrim Motorsports have split their kit car into 10 modules to complete step by step. This can be useful for those who don't have the full budget right at the beginning of their build, or those who don't have the garage space for all the parts at once! Of course, there are optional aspects: for example, you could source your own wheels and tyres or your own interior, but if you don't already have those parts lying around it's great to go for all 10 modules for ease of build. Depending on your spec, you'll be spending in the region of £24k for a full-spec AC Cobra replica.
You may have noticed that we are missing something very important… the engine! That's because Pilgrim Motorsports won't supply you with the engine and transmission, which is for you to source yourself. Depending on what condition the engine and trans is in, and what size you go for, depends on how much this will cost you! 
In the UK, the easiest classic V8 to come by is a small block chevy, which are so common you practically fall over them. There's good parts availability and are easy to hop up, although to some diehard enthusiasts this may be considered sacrilege! Another not-so-original idea would be to buy a brand new crate motor. For those who are slaves to authenticity, Ford 289ci and 427ci V8s aren't impossible to come by. A stock cut out stock small block V8 (whether Ford or Chevy) could be around £1,200, and a cut-out 427ci could be around £3,500.
Paintwork is another cost that needs to be thought about, and again this depends on how you want the finish. I have sprayed a car myself for around £500, although that was far from a professional job and is definitely what I'd call a 'ten footer' (as in, it looks alright from 10 feet away!). If you're wanting a paint shop to spray the body for you, you could be looking in the region of around £2k to £3k, but the prices of premium paint shops will vary yet more.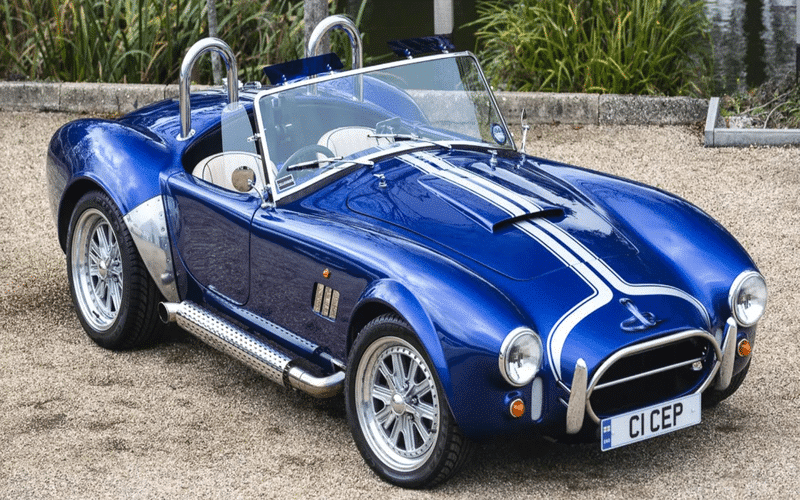 The Paperwork
Another cost that not everyone considers is that you'll need to have an IVA carried out. An IVA is an Individual Vehicle Approval which you must have completed if you've built, rebuilt, radically altered or imported a vehicle, as well as if you've reconstructed a classic vehicle. An IVA fee is £450, although you may be charged more for labour time, which could be around another £150.
When registering a kit car you've built yourself, you'll have to pay a fee of £55 to DVLA and will have to provide a 'Built-up vehicle inspection report', evidence of type approval (IVA), official receipts for the vehicle and any parts used, build plans and evidence that any reconditioned parts are to 'as new' standard in your registration application. You'll either be given a Q-plate or current registration depending on the use of parts in your build. 
Tax is dependent on the emissions of the car when it is first put through an emissions test, although it likely won't cost the earth despite having a V8 under the hood. Insurance, again, will completely depend on the driver and different variables involved. 
Insurance for kit cars and replicas can be a bit trickier to work out than a car that is mass-produced as there are lots of different specs, so these will all have to be gone through with the insurance company. While there doesn't seem to be a UK insurance provider specific to kit cars, classic car insurers like Adrian Flux, Classic Line and Footman James all come recommended for insuring kit cars and speciality replicas.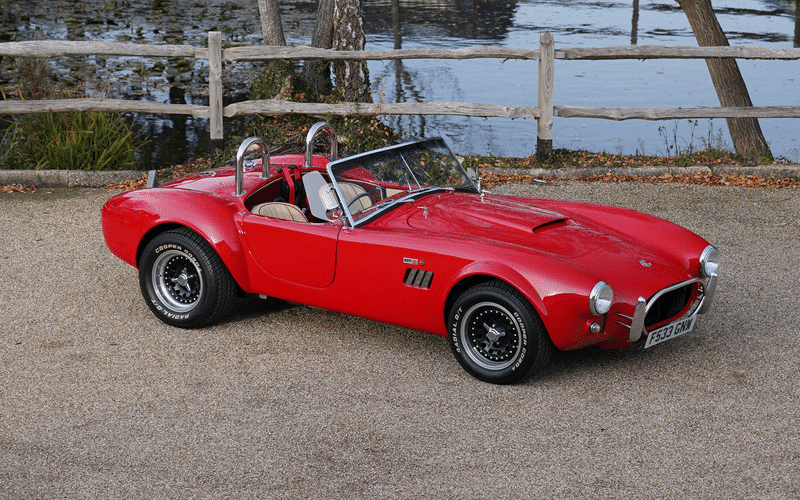 Is It Worth the Cost?
If you've got a little bit of pocket money burning a hole in your pocket, a replica AC Cobra is totally worth the investment. Some people buy a kit car every few years, build a car and enjoy it for a while then sell it on to make a tidy profit. These cars only get rarer as more go missing, or put away in people's collections. Replicas and kit cars become more desirable as the likelihood of owning a genuine Cobra 427 gets further from reach. 
A Pilgrim Motorsports Cobra replica or kit car is as stunning as the original Cobras, exuding that British sports car charm with an immense V8 muscle rumbling away in the engine bay. With the option to either go for top-spec on a fully-built AC Cobra for around £70k, or for a budget DIY modular kit for around £20k, either one will give you a smile per mile. 
Author: Niamh Smith
---
Pilgrim Motorsports is a leading UK classic car specialist and sports car manufacturer. We build, restore, service and upgrade all classic cars, specialising in Pilgrim Sumo Cobra, Shelby Cobra, AC Cobra, Dax Cobra and Speedsters. Our sister company Muscle Car UK has classic Ford Mustangs and classic American muscle cars for sale in the UK.
For more updates, news and tips, follow us on Instagram, Facebook and LinkedIn.
Looking for something specific? We can help.
We also provide service and restoration on any car, classic or otherwise.
---
Liked This Article? More Like This:
How to Find the Right Donor Car for Kit Car Projects
About the Shelby AC Cobra and the History of Kit Cars