By Charlotte Iggulden
The original Speedster (1955-59) is among the brand's most important models, alongside the 911. Its classic shape and sporting origins have made it an automotive legend. It was also famously owned by Hollywood actor, James Dean. 
Recognized around the world for its timeless design, simple styling and historic status, the car has inspired a replica industry, with kit cars and fully built replica cars (turnkey) for sale between £10,000 and £60,000 in the UK. 
This is an overview and breakdown of the cost involved in building a Speedster replica.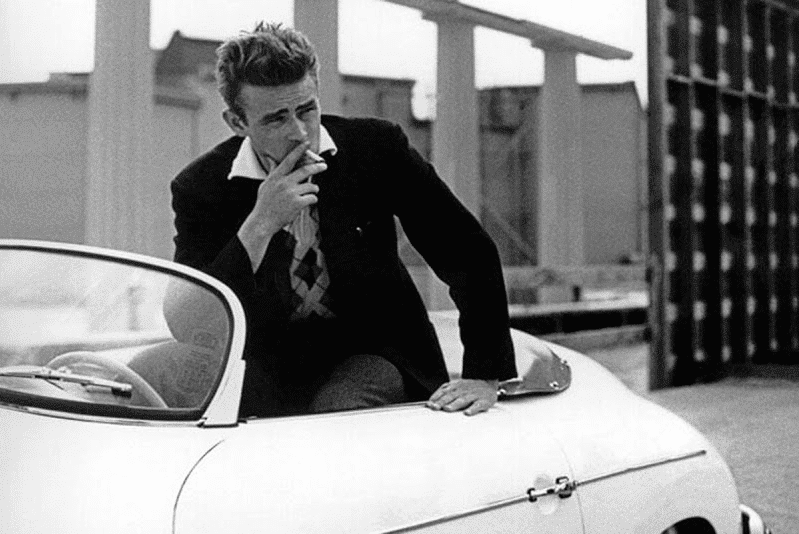 What is the  Speedster? 
The rear-engined Speedster(1948-55) is arguably the first production vehicle to be manufactured by the Austrian/German company during the post-war years when motor racing was returning, and European factory teams dominated racetracks. It was the creation of the man who also designed the VW Beetle. Originating as a unibody coupe, the agile 356 was a racing success, winning its class at Le Mans in 1951.
In 1954, Austrian American car importer, Max Hoffman, persuaded Ferdinand to make a lighter, low-cost, open-top version for the west coast. The resulting Speedster was track-ready, with competitive power to weight ratio, independent front and rear suspension, and an optional 1600 "Super" engine with 75hp. It had a handcrafted, cabriolet body barring luxuries, a minimal folding canvas roof with low, removable windscreen, plain bucket seats, no interior trim, limited instrumentation, and side curtains instead of wind-up windows. 
Charmingly nicknamed the 'Bathtub Sports Car,' the Speedster was priced at $2,995. It proved popular, especially in Southern California. 1,233 speedsters were sold in the US during the 1954-1955 model year. A few months after its introduction, James Dean traded in his MG for a white 1955 Super Speedster convertible; the car gained second place at Dean's racing debut at the CSCC Palm Springs Road Race in California.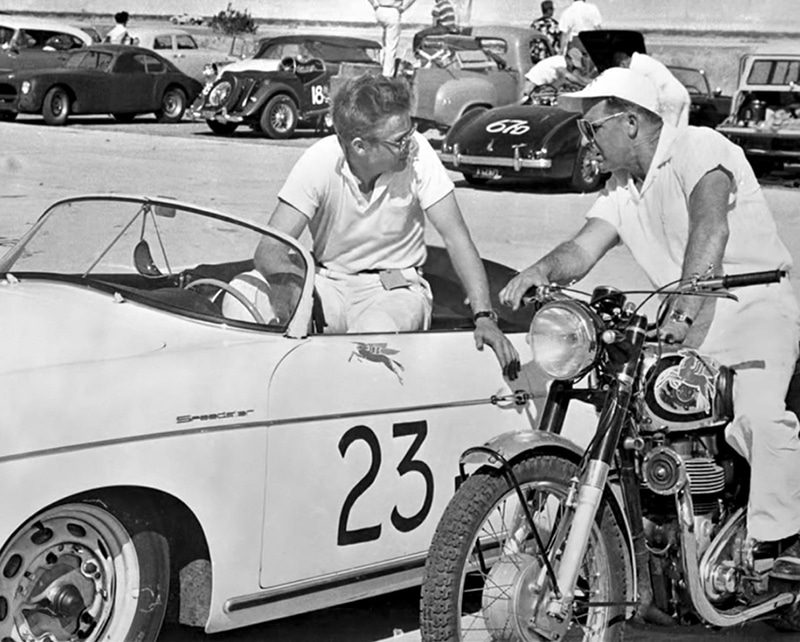 Further generations followed; the 1957 356 A 1500 GS Carrera GT Speedster variant was the fastest production by the brand at the time, reaching 200 km/h.
The car is highly sought-after today. 
Imports: Speedsters for Sale UK
You can find Speedster kit cara and replica cars for sale across the UK, Europe, the Americas, Canada, and Australia.
Some UK car companies import new and used replicas from across the world. However, as many countries do not conduct technical safety checks, they may be unsafe, illegally registered and imported, jeopardising their future resale.
Jay Leno's approved Californian replica makers, JPS Motorsports, sell an unpainted kit from $9,950, and a painted and upholstered kit from $24,950. A complete JPS kit costs $28,995, minus engine and transmission. Rockwest Racing produce kits ranging from $12k to $32k (excluding engine, flywheel, and clutch). Intermeccanica, based in Vancouver, charge a base price of $44,500 for a turnkey replica. Located in Greece, Replica Hellas charge between £36,000 and £65,000. Custom speedsters can be more expensive: JPS offer a choice of four engines for $39,850.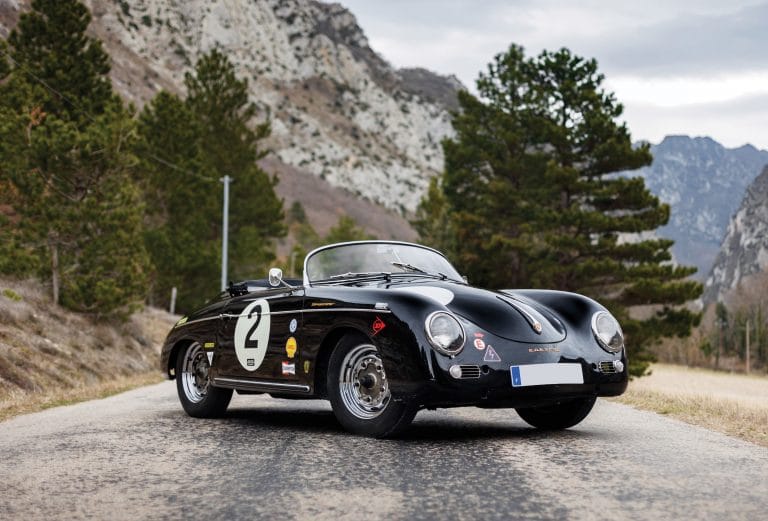 It is possible to find used Speedster replicas for sale less than $6,000.
The full impact of Brexit on importing cars is not yet clear. From 1 January 2021, you should consider increased costs for a used car, due to customs duty and VAT. During this period, all procedures in relation to registering a vehicle from the UK remain unchanged. 
Since 31 December 2020, VAT is payable on any modern vehicle being imported from the EU to the UK. From the US, a new vehicle requires VAT and tax. Non-EC and EC (Common Market) charge 10% import duty and 20% VAT for private and commercial imports. There is a £50.00 flat rate of import duty accompanied by a letter of origin to prove country of manufacture, plus 20% VAT.
If manufactured outside the EU, a vehicle over 30 years old costs 5% VAT and 10% import duty. 
Choosing to deal directly with manufacturers such as Pilgrim Motorsports can save you time and hassle by covering VAT, import duty, tax exemptions, insurance, collection, delivery, safety, and security. Costs for shipping to the UK generally rely on the type of vehicle, departure location, and arrival port. Average costs are difficult to estimate, but Pilgrim advises using container sea freight. Pricing is competitive and tailored to each customer's requirements.

Manufacturing a Speedster Replica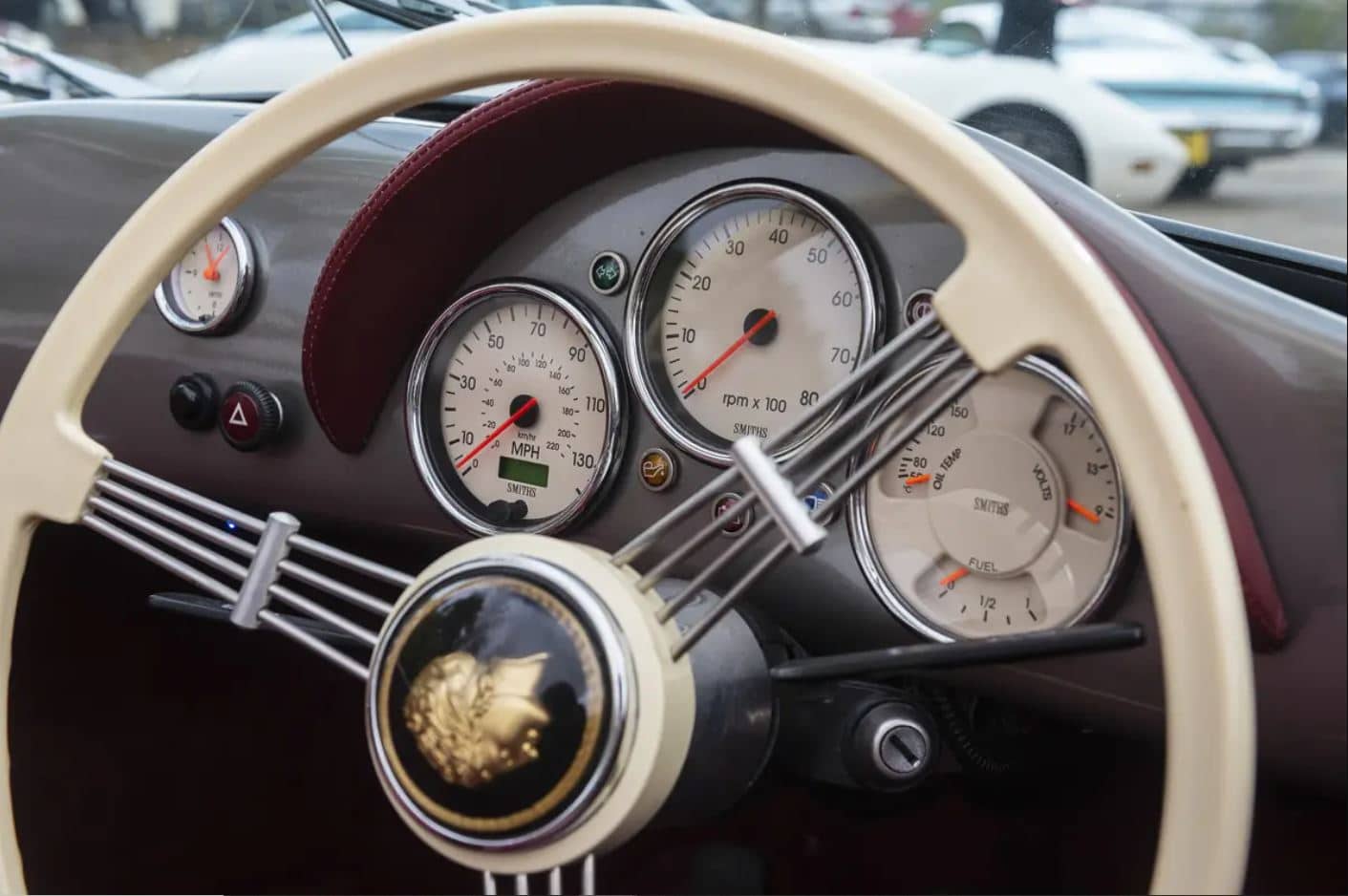 Build quality, handling and craftsmanship can vary considerably, depending on the manufacturer.
If completing the kit car yourself, you can either source the parts or purchase them from a reputable supplier. Average costs for a complete speedster kit in the UK vary between £10,000 and £12,000 or more, depending on specification.
As with most companies replicating the 356, kits and fully-built replicas are based on a shortened VW Beetle floorpan. Some UK providers supply a VW or own brand shortened chassis or require you to source the donor car to provide the suspension and other running gear. Pilgrim recommends a swing axle Beetle with 4 stud fixing and 12-volt system, after which the chassis is shortened by 11 inches or 275mm. Some manufacturers, such as Speedster Clinic, charge around £2,500 to shorten a VW chassis or you can buy a donor chassis from a supplier for approximately £600 before shortening it yourself, with technical guidance from experts. 
Pilgrim Motorsports produce a kit and turnkey replica based on their Pilgrim 356 Speedster 1986, with significant engineering improvements and a sleeker look, whilst maintaining the elegant lines of the original. The model was relaunched at the National Kit Car show in 2016 as part of a collaboration with Fuzz Townsend from Car SOS and Dave Tassell from To-Ta Classics; the current version was updated in 2018. The SWB is built using a shortened VW Beetle chassis, complete with suspension and running gear. All the standard Beetle engines fit, alongside four- or six-cylinder engines from Subaru.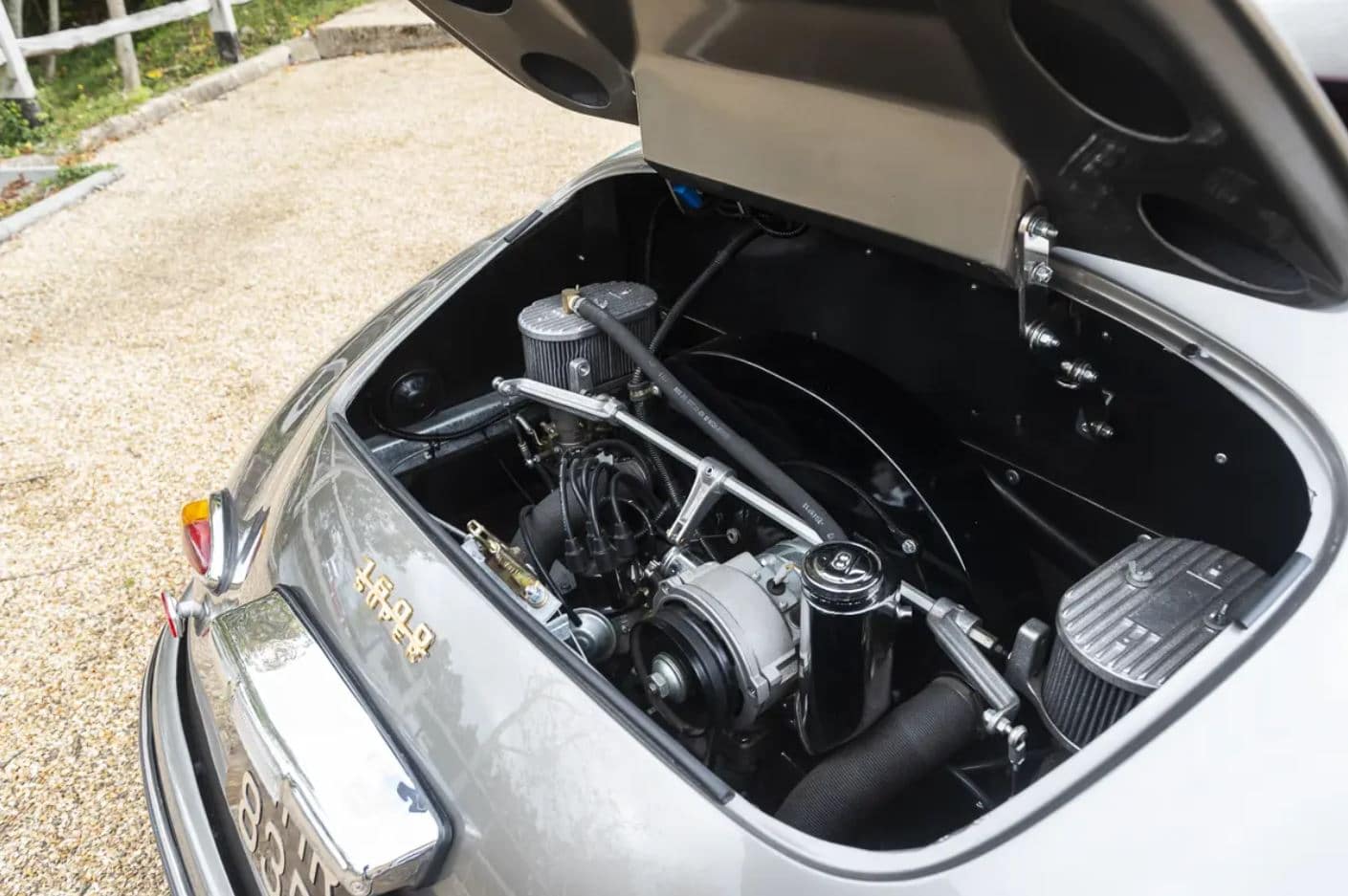 Pilgrim prides itself on attention to detail, quality, performance, and design. Their self-build kit costs £4,995 and consists of a fully galvanised sub-chassis, fibreglass panels (which are not liable to oxidisation and attach to the main Beetle chassis), body tub/shell, doors, boot, bonnet, hinges, and bumpers. You can also upgrade the suspension and add front disc brakes. Their interior kit costs £3,355+VAT, and includes fluted leather seats and door panels, rear bench seat, eyebrow and carpet set. A complete windscreen assembly costs £1,200, with an extra £1,000 for instrumentation and electrics, excluding costs for engine, gearbox, and paintwork. 
If building a kit car seems overwhelming, you can find new 356 replicas for sale between £40,000 and £60,000 upwards in the UK.
Pilgrim's cars are built inhouse by skilled craftsmen, with the chassis sent away for galvanising. Their factory-built replica costs £49,750 with improved brakes and bespoke design suspension for superior handling, an upgraded power plant VW flat 4 1600cc, and twin choke carbs for superior sound and driveability. Its roadster body design has a low, 'Outlaw' stance from the period and is painted in any British standard colour, with leather interior and low-line canvas top.
Used speedsters can cost between £4,000 and £40,000 if restored. See Pilgrim's Speedster replica cars for sale here.
Financing a Speedster Replica
Specialised UK financiers can offer loans for your kit car or replica between £5,000 and £250,000, with interest rates from 5.9% APR. Deposits vary. Hire purchase means you can spread out the cost by paying in monthly instalments between two or five years. 
Insurance
Reputable builders such as Pilgrim will have registered their cars with the DVLA and undergone the standard British IVA (Individual Vehicle Approval) test, meaning they comply with legal and registration requirements. Insurance companies will not pay if Speedsters are incorrectly registered as VW's. If a chassis has been altered, it is no longer a re-bodied vehicle. 
As speedster kits vary, specialist replica insurers offer schemes tailored to your needs and circumstances, driving experience, or if you require track day cover. 
You can insure your vehicle as it is being built or once it is roadworthy. Some insurers, such as Footman James, cover salvage retention, spare parts cover (up to £250), plus limited mileage between 1000-10000, per annum.
Tax
In the UK, all kit cars undertake a Vehicle Identity Check (VIC) by the DVLA to assign a registration mark, after which it is treated as a production car. A newly-built kit car or new imported replica may not have been registered before, so you will need to fill in a V55/4 form or V55/5 for a used vehicle. There is a £55 fee for a new registration. 
To assess its safety and roadworthiness, the replica must pass an annual MOT test, for a maximum fee of £54.85.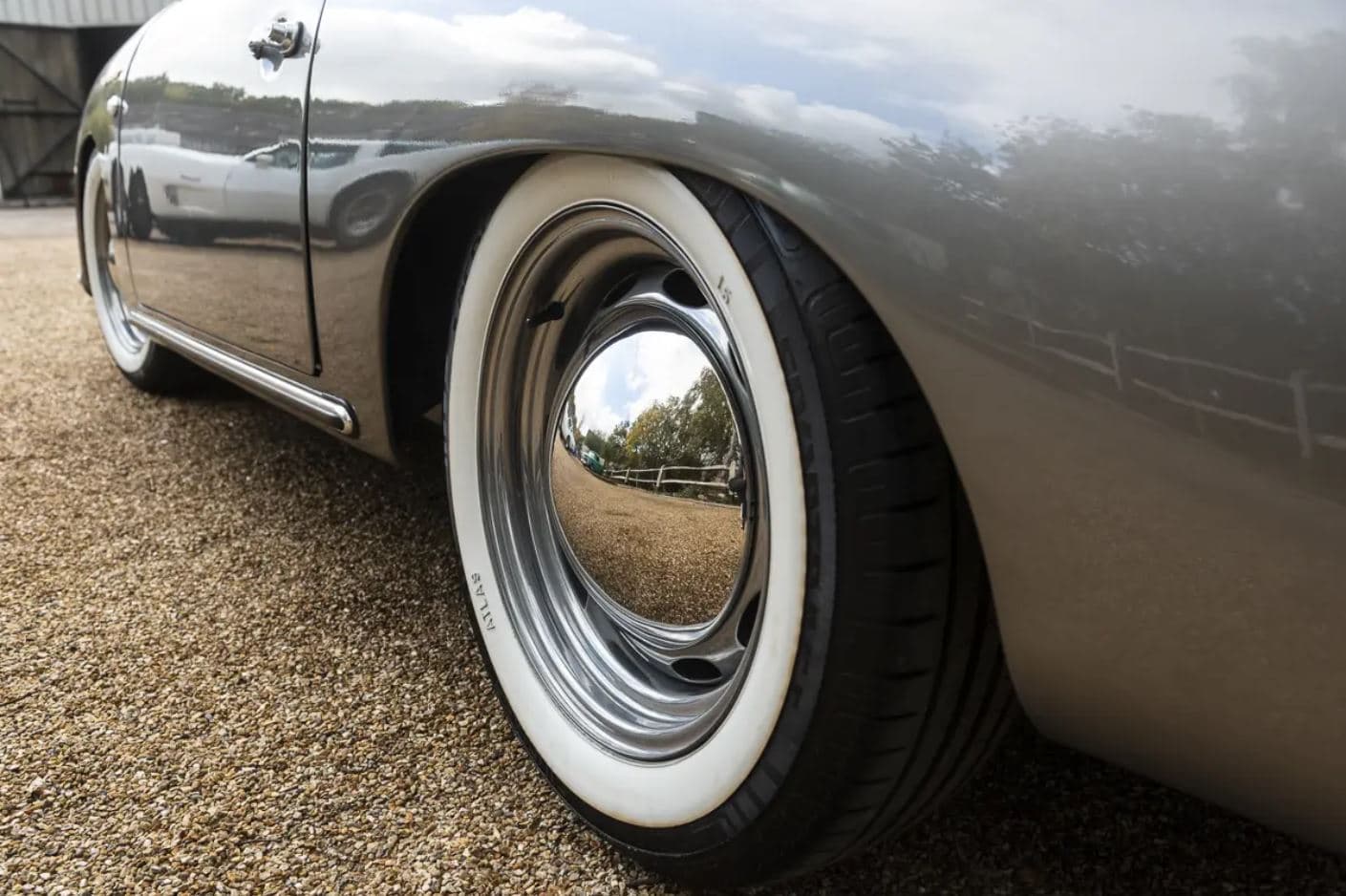 The vehicle tax for cars registered before 1 March 2001 depends on engine size. On or after April 2017, the first tax payment relies on your vehicle's C02 emissions and consists of 12 months cover, after which the tax is paid every 6 or 12 months at a different rate. For the second tax payment onwards, there is a £150 single twelve-month payment for petrol or diesel cars. If the replica has a list price of more than £40,000, you will be required to pay an extra £325 a year for five years after the second tax payment. It is advisable to confirm the amount with the kit car provider.
The IVA is a UK National approval scheme for vehicles assembled, imported, or manufactured in individual numbers. A normal inspection costs £199 and examines the replica's construction, ensuring it meets the technical requirements for modern safety and environmental standards. The IVA sometimes permits the kit car to assume the age of a donor car if the major parts are constructed from it. If before 1973, the replica might be road taxed free of charge. 
Note: Speak to a historic vehicle expert if your replica was built or first registered more than 40 years ago.
Summary
The Speedster is one of the most beloved automobiles and classic cars of all time. A replica might be worth considering if owning an original car is out of your budget, or you simply want to enjoy driving a classic looking car for less than £50,000. A modern car gives you the option to have increased horsepower, safety features, and luxuries such as air-con and heated seats. It may also suit an owner who does not have the time or finances to maintain a classic. 
It is recommended to ask advice from other Speedster owners; research and contact various suppliers to compare quotes.
Author: Charlotte Iggulden
---
Pilgrim Motorsports is a leading UK classic car specialist and sports car manufacturer. We build, restore, service and upgrade all classic cars, specialising in Pilgrim Sumo Cobra, Shelby Cobra, AC Cobra, Dax Cobra and Speedsters. Our sister company Muscle Car UK has classic Ford Mustangs and classic American muscle cars for sale in the UK.
For more updates, news and tips, follow us on Instagram, Facebook and LinkedIn.
Looking for something specific? We can help.
We also provide service and restoration on any car, classic or otherwise.
---
Liked This Article? More Like This:
How to Find the Right Donor Car for Kit Car Projects
About the Shelby AC Cobra and the History of Kit Cars